Helping Children Get a Healthy
Night's Sleep
with the gift of a new bed
Imagine sleeping on the floor every night.
How would it affect your daily life, including school or work? Unfortunately, that's the reality for thousands of children across America. Getting a good night's sleep is something they can only dream about.
That's why Slumberland Furniture created the 40 Winks Foundation. Drawing its name from an old English expression for just the right amount of sleep, the foundation works to provide mattresses and beds to children who need them most.
Slumberland has been giving new beds – and good sleep – to those in need since 1991, through its annual Homes for the Holidays giving event each December. Over the years it became clear that a once-a-year event did not begin to cover the need that existed, and in 2008 the 40 Winks Foundation was born. Through the Foundation, new beds are distributed through our network of charity partners all year long.
By providing these basic resources, we hope to give children and families a full and healthy night's sleep—and ultimately, a better quality of life.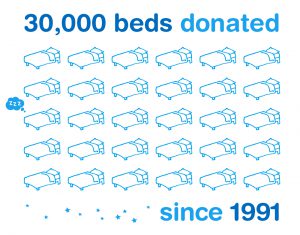 Helping Children Get a Healthy Night's Sleep
Slumberland created the 40 Winks Foundation to see that all children get off the floor and tucked into a warm bed every night.
"The little boy gave me hugs on every step as we brought his new bed up the stairs, shouting HOORAY, HOORAY!"
-Janean
Furniture Mission of South Dakota